Cryptocurrency, NFT, and Metaverse are the concepts that are newly growing in the digital economy and influencing countries and their economies to step into the virtual economic world. In this article, we are talking about the use of NFT in the Metaverse and 10 Ways to Earn Money through metaverse and NFTs
NFT
NFT, a Non-fungible token is something that is unique and can't be replaced with something else. It is financial security consisting of digital data stored in it using a form of distributed ledger which is a blockchain. It can be transferred by the owner, allowing NFTs to be sold and traded. NFTs can be uniquely identifiable because typically contain references to digital files such as photos, videos, and audio.
Metaverse
Metaverse is a 3D universe that is a new concept of connecting virtual spaces together. This universe allows us to do activities such as meet, work, games, art, music, collectibles, and socialize online likewise. The digital economy is the main role in Metaverse and NFT is a great fit for an environment like this.
Bringing the success through the novelty of both NFT and Metaverse concepts, several companies already use both simultaneously in a creative and fruitful way.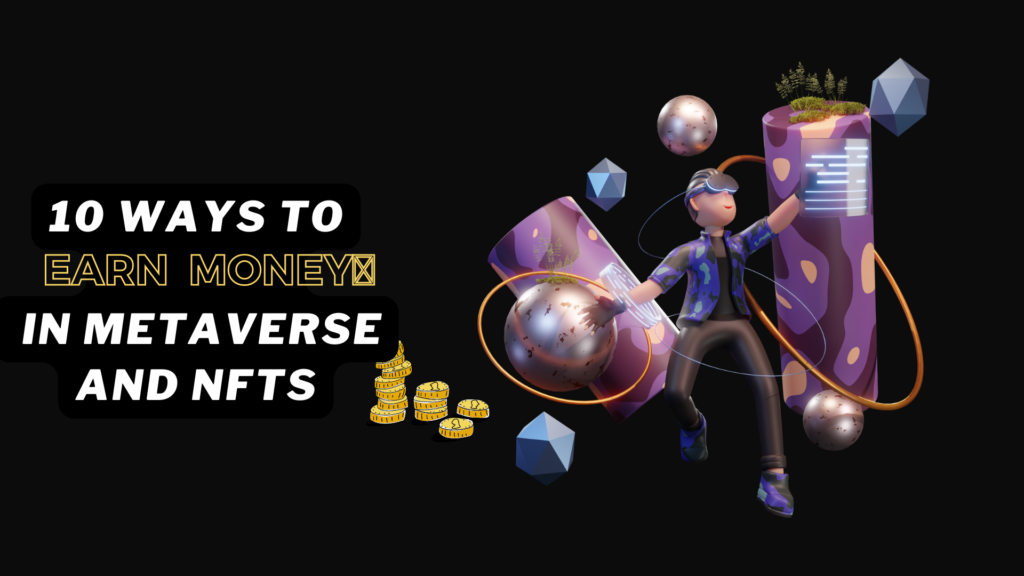 Virtual marketplace
Metaverse allows users to create, sell, and trade items in the form of NFTs. Sellers can easily provide links and previews of their assets or mint assets directly in the VR landscape through Metaverse. Companies like Facebook now known as Meta, and Microsoft already planning a Metaverse of their own very shortly. Changing the name of Facebook to Meta can be a hint of what they are going to do with Metaverse. A famous brand like Nike on the other hand already in the metaverse with its own virtual Nike land. Metaverse is perhaps the best possible platform for viewing art. You get to see the art in different angel in detail, with a price that is already set. Considering real estate, digital land and territories being partially or completely sold for further user development.
you can read more about other Trending Technologies here: Trending Technologies in 2023 (nexuspie.com)
10 Ways to Earn Millions in Metaverse and NFTs
Play-to-earn Games
Some games like VR poker, e-sport betting, and others allow users to earn money as they play online games. Companies such as Admix, a startup that just raised $25 million USD to drive in-game monetization in the Metaverse. Platforms like Bloktopia will have entire floors or divisions dedicated to play-to-earn gaming.
Design 3D accessories for users
Those with some knowledge of 3D design can create accessories for VR gameplay. Metaverse users would want to "dress" their avatars with accessories like wearables, gadgets, headgear, outfits, or even weapons. One can design and sell these accessories on the marketplace, taking advantage of the design toolkits that most metaverse platforms provide.
Create and monetize VR games
Like 3D accessories, one could design and publish end-to-end games in VR. This does not necessarily require advanced technical skills. For example, a VR version of Google's iconic dinosaur game could work equally well for user adoption and monetization.
Get a freelance gig in the Metaverse
The Metaverse will have its own economy complete with a unique set of skill requirements for service jobs. For example, a VR tourist destination like a museum or art gallery would require tour guides to help visitors navigate this space effectively. VR clubs may also require security personnel, gamers may hire trophy hunters, and so on.
Conduct Metaverse events with paid tickets
This is already an extremely popular way to make money in the Metaverse. Live concerts by real artists can attract massive crowds, and organizers can charge users in the form of paid tickets.
Warner Music has already partnered with metaverse platform The Sandbox to create a virtual concert hall. Snoop Dog's recently acquired Death Row Records is poised to become an NFT label, and the artist has already purchased a large block of land on the Metaverse offering additional revenue generation streams.
Get sponsors for free events
Even if one cannot attract users to a paid event, there are sponsorship opportunities to unlock in the Metaverse. For instance, a small business could organize a trade show with free participation for attendees, where event sponsors would pay the organization to reach new audiences.
Buy and sell land parcels
Buying virtual real estate is another popular way to make money in the Metaverse, and companies like PwC JP Morgan, and several others, have made moves in this direction. Any user can purchase a land parcel for a fixed price and later sell it at a higher price to return a profit. Investors with high-risk appetites can also explore emerging Metaverse platforms for such opportunities.
Rent out metaverse real estate to developers
Rather than sell VR land for a profit, users can rent parcels out to developers to create buildings, gaming arenas, concert halls, offices, and other venues. This is ideal for those who want a steady stream of revenue, but keep in mind that in-demand properties at the best metaverse locations will be expensive.
Develop metaverse real estate yourself
Another alternative is to purchase land and develop it yourself with VR design and development skills. Unlike gaming, real estate and building design requires more work and maybe expensive depending on the resources used. Different metaverse platforms will also have their own limitations, but profitability is equally high.
Trade 3D NFTs
Finally, one can always trade 3D non-fungible tokens (NFT) – the VR counterpart of NFT trading in the traditional digital world. The metaverse could house a variety of 3D artwork as NFTs for purchase as an investment class. You can sell your NFTs on Platforms like Opensea
Hopefully, now you got the main ideas about the two concepts and have a bit of sense of where and how the market is reaching. If you choose to embrace the metaverse and NFTs in your business, it could be a great chance to escape from competitors and develop your business as a future-oriented one and earn millions in Metaverse and NFTs using above mentioned methods.