VEED is the ideal solution if you're seeking a feature-rich, all-in-one online AI video editor. It's designed for beginner and semi-professional video editors, providing industry-leading AI features that effortlessly streamline the video editing process.
Gone are the days of spending countless hours juggling multiple video editing tools to add subtitles or remove background noise. VEED's user-friendly AI features, including auto-subtitles, AI generator, clean audio, and video background removal, simplify the creation of high-quality professional videos without disrupting your workflow.
No longer will you need to rely on a multitude of video editing tools to achieve your desired results. VEED empowers you to accomplish the majority of your work within a single platform, enhancing convenience and efficiency. Moreover, VEED operates in the cloud, eliminating the need for a high-end computer or massive storage capacity. This means you can edit your videos seamlessly without worrying about hardware limitations.
AI Video Editing Features of VEED
AI Video Editing Features of VEED Here are some of VEED's impressive AI video editing tools:
Magic Cut
Magic Cut by VEED AI takes your raw footage and effortlessly transforms it into short, punchy edits — ideal for social media. What's more, it achieves this with a single click! By analyzing your footage, it identifies and shortlists the best takes, while simultaneously eliminating mistakes, filler words, repetitions, and pauses.
Eye Contact Correction
Eye Contact Correction is an AI-powered tool that precisely adjusts your gaze to look directly into the camera post-filming. Thanks to this tool, you can now confidently look at your notes or script as you film yourself, without the need to memorize anything, and simply make gaze adjustments during the editing process. Moreover, if you want to learn more about this remarkable feature, I recommend checking out this resource for further details on the Eye Contact Correction tool.
AI Avatars
AI Avatars by VEED AI are hyper-realistic and customizable virtual representations of human beings. You can use them to represent your business and convey your messages through engaging videos. Choose from 70 different avatars and select from over 100+ languages and accents — no need to hire an actor or get in front of a camera yourself!
Auto Subtitles
VEED's auto subtitles feature allows you to automatically generate and add subtitles to your videos in multiple languages at the click of a button. This feature eliminates the need to manually transcribe and synchronize subtitles, saving you a lot of time and effort. Snapshot of VEED's auto subtitles feature.
Clean Audio
VEED's clean audio AI functionality can help you remove unwanted noises like traffic, wind, background chatter, and more, at the click of a button. Snapshot of VEED's Clean Audio feature. Fun Fact: You can also replace the existing audio in your videos with background music, sound effects, and voiceovers!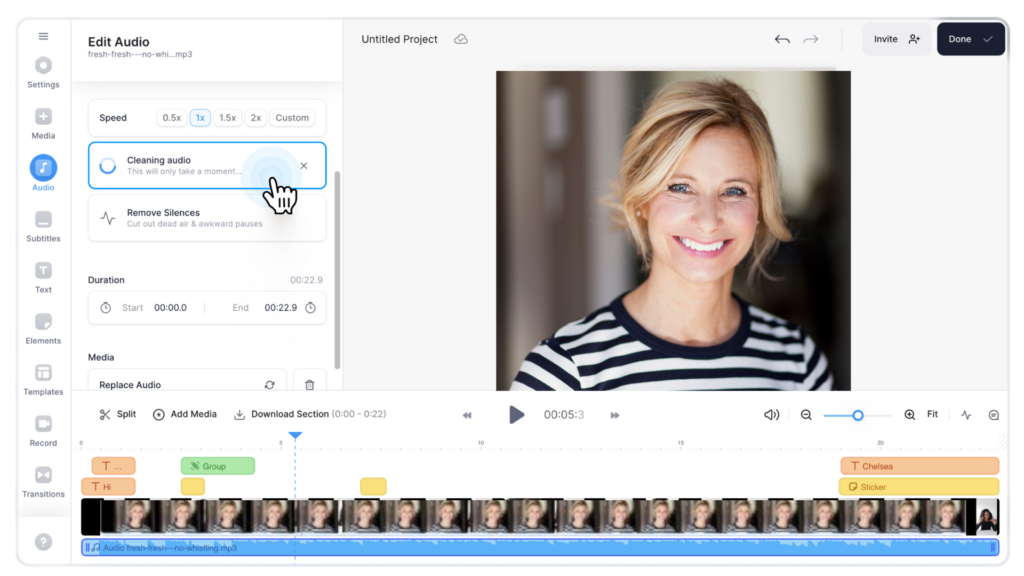 Text-to-Speech
VEED also offers a text-to-speech tool that can convert your written text into AI-generated audio in different languages in no time. Snapshot of VEED's Text to Speech feature.
Video Background Remover
With VEED's AI remove video background tool, you can easily edit out your video's original background and replace it either with a color or an image of your choice. This is a great feature for people looking to create professional-looking, high-quality videos with a clean and consistent background. Snapshot of VEED's AI-powered video background remover.
AI Image Generator
Creating professional-looking and high-quality images can be a tedious process. Luckily, with VEED's AI image generator, you can generate images from text automatically with the click of a button. All you need to do is type a text prompt, select your desired resolution, and click on "Generate," after which VEED will take a few seconds to process and generate an image based on your prompt.
In summary, VEED offers a comprehensive and intuitive solution for video editing, allowing you to save time, consolidate your workflow, and edit your videos effortlessly in the cloud. So Signup now at Veed to give your videos a magical touch.