Discovering the top AI-based logo maker can be a game-changer for your branding journey. These innovative tools harness the power of machine learning to bring your vision to life and create a remarkable logo that aligns perfectly with your brand identity. To assist you in finding the ideal platform for designing the perfect logo for your upcoming brand launch or products, we've compiled a list of the finest Top 5 AI based logo makers. With their AI-driven capabilities, you can unlock a world of creative possibilities and craft a logo that leaves a lasting impression on your audience.
1. Wix Logo Maker
The Wix Logo Maker is a user-friendly tool offered by Wix, a popular website builder platform. It helps individuals and businesses create professional logos quickly and easily, even without design experience. To get started, users input information about their business, such as name, industry, and preferred style. Then, using artificial intelligence algorithms and a vast design database, the tool generates multiple logo options.
Users can customize the logos after the generation process to match their brand vision. They have options to adjust colors, fonts, sizes, and layout, allowing them to personalize the logo to perfection.The tool also provides previews of how the logo will appear on various marketing materials, such as business cards and websites, to ensure a cohesive look.
Once satisfied with the customized logo, users can select their favorite option. The Wix Logo Maker offers logo packages for purchase, which include high-resolution files suitable for both digital and print use. After payment, users can download their logo and start using it across all branding materials.
Key Features of Wix Logo Generator:
Over 40 color palette combinations
Hundreds of font selections, including Google Fonts
Over 100 full-color and monochrome icon choices
Add and customize geometrics shapes within your logo
Upload your own design assets and logos to the generator
Overall, the Wix Logo Maker is an excellent choice for those seeking a simple and cost-effective solution to create a professional logo without the need for hiring a professional designer. However, for more intricate and unique designs, working with a professional graphic designer may still be the best option. So Signup Now at Wix.
2. DesignEvo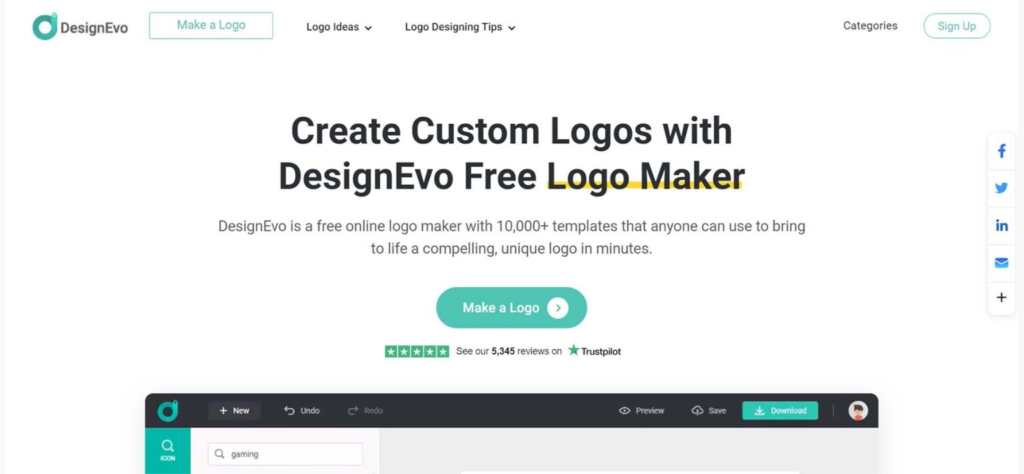 DesignEVO, an exceptional free logo maker and AI logo generator, stands out among the AI logo generators on our list due to its vast library of assets that inform the creation of your AI-generated logo. Commencing with pre-designed logos, DesignEVO empowers you to edit and infuse your unique colors, fonts, and icons. Utilizing advanced AI technology, the platform aids in selecting templates that perfectly align with your business's branding and style. The builder's functionality and user-friendliness allow seamless editing of every aspect of your logo, ensuring it meets your precise requirements. With the freedom to effortlessly click-and-drag elements, add shapes, change icons, and more, your creativity knows no bounds.
Key Features of DesignEVO:
10,000+ logo templates to start from
Millions of free vector icons to add to your logos
100+ font styles to use and choose from
Editable solid and gradient color schemes
Download high-quality print-ready file types like SVG and PDF
3. Looka Logo Maker
Looka, an innovative online logo generator, initiates the logo-building process by gathering market research. It begins by posing questions about your industry, setting the foundation for designing your logo. The logo designer then presents various common styles relevant to your specific industry. Additionally, you have the option to include a slogan in your logo, ensuring clear and effective brand messaging for your audience.
Once the initial logo is crafted, Looka empowers you with unlimited editing capabilities, allowing you to refine and perfect your design to your heart's content. Leveraging the power of machine learning and artificial intelligence, Looka goes beyond traditional approaches, providing modern-day suggestions to elevate and enhance your logo further. These intelligent recommendations contribute to sprucing up your logo and making it even more remarkable.
Key Features of Looka:
Generates more than 75 logos in one fell swoop
Seven color scheme categories with hundreds of choices and selections
More than 300 font options in a variety of styles, including handwritten, vintage, sans serif, and much more
Saves previous logo generations and allows you to favorite generations that speak to you
Upload your own logo to edit and generate a brand kit from
4. Tailor Brands Logo Maker
Tailor Brands serves as a comprehensive platform for businesses and brands, offering a plethora of tools to streamline various aspects of your venture. Whether you require assistance with business registration papers or need support in building a website, Tailor Brands has got you covered. Among its arsenal of helpful tools, the AI logo maker stands out as a prominent feature.
With a clean and user-friendly layout, Tailor Brands' logo maker simplifies the logo creation process. Its extensive library comprises a wide array of fonts, icons, colors, and styles, granting you ample options to design your perfect logo. Once you've crafted the logo of your dreams, the platform seamlessly extends its support to address other business necessities, all while proudly showcasing your new logo.
Key Features of Tailor Brands:
The straightforward visual logo design process with hundreds of icons, color schemes, and layouts
Generates over ten different logo options based on your color, font, and style selections
Ability to download high-quality PNG and JPG versions of your logo on a white or transparent background
Save your favorite logo combinations and download a free sample
Generates business card designs, branding books, and more
In conclusion, Tailor Brands' logo generator stands as the ultimate one-stop-shop for building your brand. It sets you on the right path with a remarkable logo, while also offering a range of additional resources to help your business take flight.
5. Logo AI
LogoAI stands as an impressive AI logo generator, boasting a straightforward interface that ensures user-friendliness. With LogoAI's click-and-drop design feature, logo creation becomes a breeze. However, the customization options may vary depending on the logo generation you select. Certain styles might impose restrictions on color schemes, limiting your ability to use custom colors during logo creation.
Nevertheless, LogoAI excels in various other aspects. Notably, it stands out as one of the few generators on our list that offers an animated version of your logo, adding a dynamic touch to your brand representation. Additionally, LogoAI provides an abundance of options for editing each aspect of your logo. You can easily modify your icon and text, leveraging editing tools like skewing, rotation, and deep color customization for icons, including solid colors and gradients—a feature that sets LogoAI apart from other logo generators that overlook this level of detail entirely.
Key Features of LogoAI:
Over 50 fonts to choose from, including Google Fonts
Upload your custom font for use within the AI generator
Seven primary color schemes with a custom color picker option as well
Logos can be made available in PNG, SVG, and PDF file formats
Download video and GIF animated versions of your logo
In summary, LogoAI presents an impressive package with its user-friendly interface and the unique provision of animated logo versions. Although some limitations may apply in certain styles, its extensive editing capabilities make it an excellent choice for those seeking in-depth logo customization options.
Conclusion
In conclusion, the top 5 AI based logo makers – Wix Logo Maker, DesignEvo, Looka, Tailor Brands, and LogoAI have revolutionized logo design. With vast libraries and intuitive customization, they empower users of all levels to create remarkable logos. Whether you're a startup or an established business, these AI logo makers offer a diverse array of options. Embrace the power of artificial intelligence and shape your brand's identity with confidence, as these innovative tools set your logo apart in the ever-evolving digital landscape.
To discover AI based script writers See More.