Are you longing to unleash your storytelling prowess, but writer's block has consistently stood in your way? Fear not, for excuses are now a thing of the past! Thanks to the extraordinary capabilities of today's Artificial Intelligence (AI) script writer tools, crafting stories of any length has never been more effortless and prompt.
These cutting-edge AI applications employ machine learning algorithms, natural language processing, and sophisticated story generators to expand your written text into immersive narratives or even furnish the next few sentences. The constraints of human creativity are shattered, paving the way for an extraordinary exploration of possibilities in your script writing. Embrace the awe-inspiring surprises that the AI-generated output has in store, igniting a fresh spark of inspiration to propel your creative journey forward!
1. Jasper – The best AI script writer
Jasper, powered by OpenAI's GPT-3 algorithms, leads the way in generating high-quality content with its interactive long-form editor. 
Here are the Core Features of Jasper:
Offers 54 diverse templates for marketing, social media, blogs, and more.
Utilizes GPT-3 for top-notch content creation and user-friendly interface.
Content can be translated into 25+ languages.
There is no limit to how much you can write.
Try Jasper Now.
2. ShortlyAI -Transforming your ideas into captivating narratives.
As a proficient AI script generator, ShortlyAI leverages advanced GPT-3 AI algorithms to craft human-like content for fiction and non-fiction writing.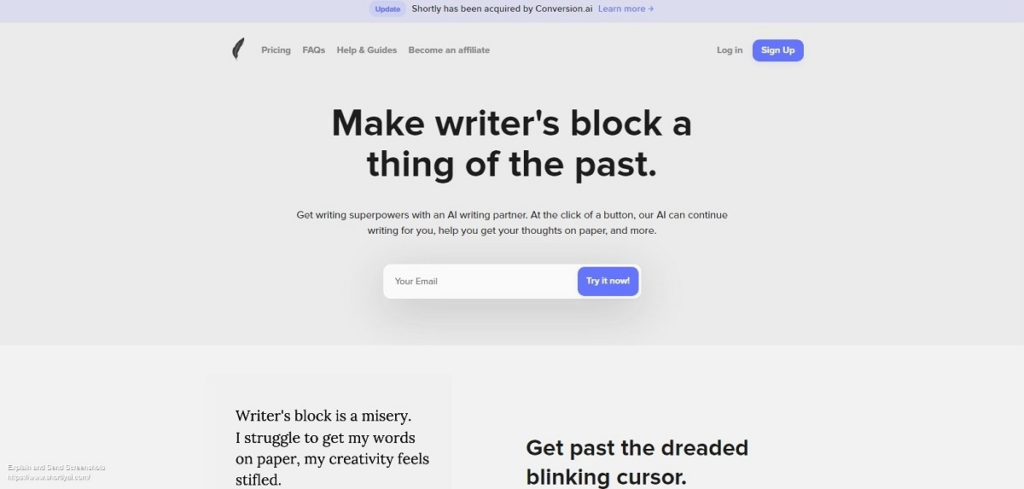 Here are the Core Features of ShortlyAI:
Interactive "Long-Form Assistant" allows users to edit and refine the generated content.
Supports seamless creation of captivating narratives and user guidance.
The Refine Commands allow you to manipulate the content even more.
There is no limit to how much you can write.
Sign up at ShortlyAI to ease your content writing journey.
3. Writesonic – Craft impeccable prose with the help of this AI script writer.
Writesonic is a user-friendly AI script writer excelling in quick content generation, using readability checks and sentence expansion for well-crafted text.
Here are the Core Features of Writesonic:
Efficiently produces content for blogs, landing pages, and product descriptions.
Empowers users with options for improving content quality and engagement.
Sign up at Writesonic to write content effortlessly.
4. ContentBot – Craft human-like stories
ContentBot's AI engine options, OpenAI GPT-3, and Tinyseed offer versatile solutions for high-quality, quick content generation or higher quantity output.
Here are the Core Features of Contentbot:
41 templates for various copywriting and marketing needs.
Enables content creation with ease and speed through interactive AI.
Explore more about ContentBot.
5. TextCortex AI – Unlimited freedom, exceptional quality
TextCortex AI stands out with its advanced NLG algorithms, converting data into creative and human-sounding language. 
Here are the Core Features of TextCortex AI:
Supports 72 languages, making it a global companion for diverse content generation.
Enables seamless creation of product descriptions, ads, blog posts, and more.
Explore TextCortext AI.
In conclusion, AI-powered script content writers have revolutionized the way we create captivating narratives and engaging copy. With their impressive capabilities to generate high-quality content quickly, writers now have access to a powerful tool that opens the doors of earning potential. Whether through creating compelling marketing copy, crafting engaging blog posts, or penning captivating stories, the possibilities for generating income with these AI script writers are boundless. Embracing these cutting-edge technologies empowers writers to not only streamline their creative process but also tap into new opportunities and expand their horizons in the realm of professional writing, ultimately unlocking the potential for greater success and financial rewards.
To explore AI based video editing tools ReadMore.